Maintaining your rental properties can be one of the more stressful parts of owning a property investment. We at Rock Solid Property Management are here to help with prompt, affordable and complete maintenance and repair services. We have highly trained and skilled maintenance contractors who work in-house as well as an extensive list of area contractors we can contact to ensure that our maintenance services offer unmatched quality.
We will handle the repairs at every turn. From the initial bid on the job to the final inspection, our team will ensure that the job is done quickly, efficiently and with attention to the costs involved.
Whether you own 1 or 100 rental properties, we will keep your properties well maintained.
Property Maintenance Services
Our comprehensive property maintenance include the following services:
We handle all maintenance and repair requests from tenants and property owners.
We will obtain bids for maintenance and repairs when requested by investors, homeowners or Boards of Directors.
We offer 24-hour emergency maintenance services.
We report on preventative maintenance repairs to homeowners or tenants.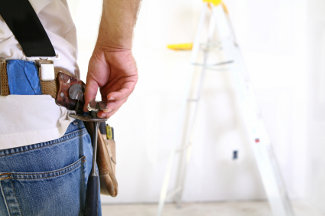 Respond to All Requests from Residents
This keeps you from having to be directly involved with the tenant, while making sure proper repairs are made on your property as quickly as possible.
Coordinate Contractors
When major repairs or renovations are needed, we will collect bids from the contractors we have long relationships with to help keep your costs low while ensuring the job is done well. You will be contacted for approval on all major repairs. We will then schedule and coordinate the repairs with the contractors and the tenant.
Home Warranty Work
If you own a property that is still under a home warranty, Rock Solid Property Management will work with the home warranty company to save you valuable time. We will also follow up to ensure the repairs were completed as needed.
Inspection of Completed Repairs
We will inspect all major repairs on the property to ensure that the work was done well before we pay any of the bills.
Investment Property Maintenance
To help you maintain your investment property, we will:
Process requests from occupants for repairs.
Perform 24-hour emergency maintenance.
Perform regular inspections.
Supervise all repairs.
Gather bids when maintenance and repairs are needed, then present those bids.